Laboratory:
Clinical Immunology
Test Name:

PARIETAL CELL ANTIBODY PCA - (S)

Test Code: PCA

Clinical Information:

Test performed at: St. Boniface Hospital, Immunology Lab, using and indirect Immunofluorescence assay (IFA). Serum samples are initially screened at a 1:10 dilution.
This test kit provides semiquantitative in vitro determination of human antibodies of immunoglobulin class IgG against parietal cells in patient samples to support the diagnosis of chronic-atrophic gastritis, pernicious anemia, funicular myelosis, and various autoimmune endocrinopathies.


Collection Devices:

Specimen Required:

Blood: 5.0 mL

Serum: 1.0 mL

Referral:

Separate serum and ship refrigerated or frozen if greater than 7 days from time of collection.

Requisition:
Reference Values:

PCA: <1:10 Titre (Negative)

A negative result does not necessarily exclude autoimmune disease. Positive results should not be interpreted in isolation and must be correlated with relevant clinical findings.

Availability:

Weekdays

Laboratory Hours of Operation: Mon-Fri, 0800-1615, excluding holidays. PCA TAT: within 10 days

See Also:
More Information:

Positive results will also be accompanied by a Titre.

Autoantibodies against mitochondria (AMA) may lead to incorrect evaluation results. The substrate primate stomach is therefore preincubated with glycine urea buffer to reduce AMA-specific fluorescence.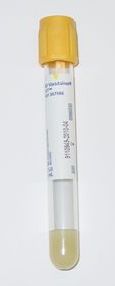 Serum Separator (SST) Tube(s) - Full Tube Collection
Manufacturer:
Becton Dickinson
Catalogue #:
367986