Laboratory:
Clinical Biochemistry
Test Name:

BILE ACIDS, TOTAL - (S)

Test Code: BILA

Clinical Information:

Alternate name: Bile Salts.

Collection Devices:

Specimen Required:

Serum: 0.5 mL


Collect fasting specimen.

Referral:

Requisition:
Reference Values:
Availability:

Within 10 Days

See Also:
More Information:

Minimum volume required: 0.5 mL serum. Store and send frozen to In-Common Laboratories.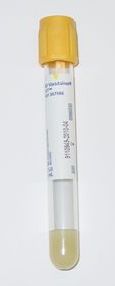 Serum Separator (SST) Tube(s) - Full Tube Collection
Manufacturer:
Becton Dickinson
Catalogue #:
367986