Laboratory:
Clinical Biochemistry
Test Name:

BENZODIAZEPINE SCREEN - (U)

Test Code: BEN

Clinical Information:

Test Indications: This test is used for the detection of benzodiazepines in urine
Recommendations: A positive result with this method indicates the presence of a benzodiazepine, but it does not reflect the degree of intoxication.

"Results are for medical diagnostic purposes only. Test results are presumptive. No chain of custody in collection and transportation of sample for testing. Not suitable for employment or legal purposes or other statutory regulations." For Crossreactivity List, see hyperlink

Collection Devices:

(Similar lab approved leak-proof containers acceptable).

Specimen Required:

Urine: 3.0 mL


Samples need to be frozen if delivery to lab exceeds 3 days.
Specimen received 30 days post-collection will not be tested.

Referral:
Requisition:
Reference Values:

Positive ≥ 100 ng/mL

Availability:

Daily

See Also:
More Information: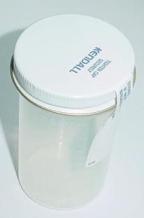 Urine Collection Container, Leak-Proof Random 100mL
Manufacturer:
Kendall, A Tyco International Co.
Catalogue #:
2205 SA